The most sacred temple for Vaishnavas, Badrinath is located at Garhwal hills on the banks of the Alaknanda river in the Chamoli district of Uttarakhand, a North-eastern state of India. The Badrinath temple was constructed at a height of 3,133 m above sea level.
Badrinath, a famous Lord Vishnu temple, is one of the 108 Divya Desham divine places on earth. The presiding deity here is Lord Vishnu in the form of Badri Narayan. This place is mostly visited by people who do char Dham yatra as it is one of the Dhams. As per Hindu scriptures, this place used to be known as Badrikashrama. Maharishis use to do Tapas(meditate) here. This holly place has many stories relating to its greatness of this place and it is mentioned in many Hindu scriptures like Mahabharath, Srimadbhagavatham, Vishnu Purana, and Shiva Purana.
History of the Badrinath Temple
The Badrinath Temple was constructed by the Adi Sankaracharya in 9th century AD. One day during his stay there, he saw the idol of Lord Vishnu in Saligrama form in Alakanandana river, Adi Sankaracharya consecrated the idol in a cave near Tap kund (hot water spring). The king of Garhwal moved the idol to present Temple in the 16th century which was later rebuilt by the king of Jaipur after great Himalayan earth quark in 1803.
Legends of Badrinath
Once lord Vishnu was searching for a peaceful place to do meditation on earth at lost lord selected Badri as a suitable place for his meditation. Then lord Vishnu began his meditation and was so much immersed in it where he did not consider his body and the extreme weather condition in Badrinath. His consort Lakshmi Devi took care of the lord by protecting him from the biting cold in the form of Badri tree (Indian dates or jujube). later lord was pleased with Lakshmi Devi's service and he named this place as Badrinath. Once this place was fully covered by the Badri tree, now we don't find one.
Nara Narayana mountains
Badrinath is surrounded by Nara Narayana mountains, the fourth avatar of Lord Vishnu was Nara Narayana Maharishis. In Krita Yuga, there was a king named Dharma. He had four sons viz. Krishna, Hari, Nara, and Narayana. Nara Narayana Maharishis decided to perform austerity, they searched all the places and finally came near this place Badri and started the ashram called Badrikashrama. They performed severe austerity here and it is believed for benefit of earth they are doing meditation in Badrinath in the Nara Narayana mountains as long as earth stays. Nara is considered as Arjuna and Narayana as Lord Krishna.
Places to visit near the Badrinath temple
Charan paduka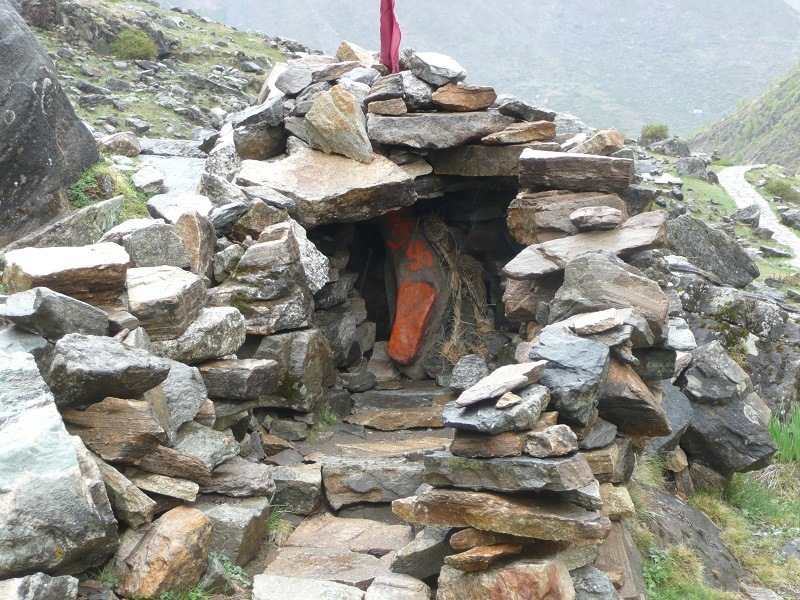 A sacred place to visit in Badrinath is Charan paduka where lord Vishnu's footprint is imprinted on the hill. It is said that Lord Vishnu first kept his foot on earth here. To reach this place from Badri it takes 3 km trekking and then one and a half hours climbing uphill.
Mana Village
Mana Village, 3km from Badarinath is the last village in India located near Tibet and China border, the village is situated on Saraswathi river banks at the height of 3219 km from sea level.
Famous tourists place near Mana village
Neelkantha Peak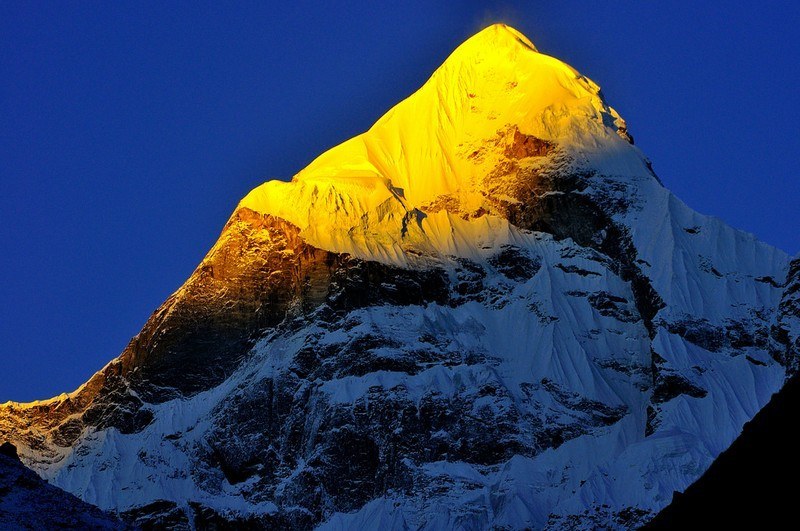 Neelkantha Peak is located at the height of 6,597 m from sea level which is called queen Garhwal. The holy and beautiful Badrinath can be seen from this place. Tourists can view numerous Brahma kamalam(lotus) from here above the Badarithan temple.
Vasudhara Falls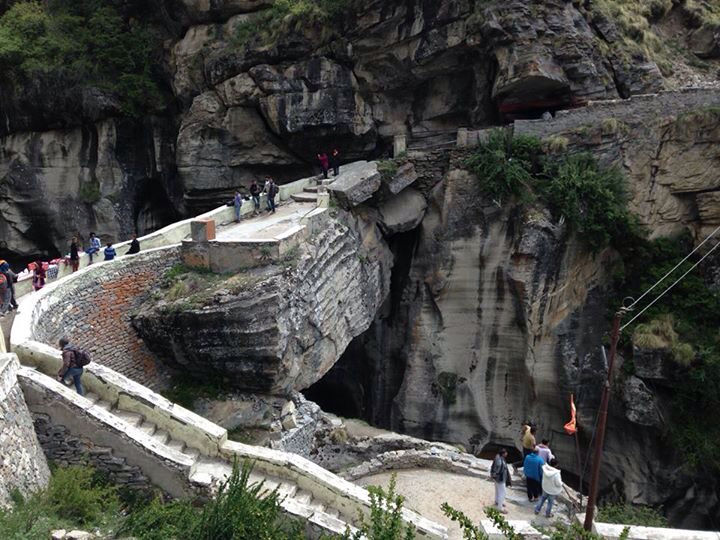 Vasudhara waterfalls are surrounded by enchanting beauty. This place makes you captivated by beauty. If you are a nature lover, you should keep this waterfall on your travel list when you visit the Badrinath temple. This water is savored only by a pure soul and unstained from guilty. From Mana village, a further 5km trekking takes( around 2 hours) you to reach this place. The best time to visit is the 2nd week of May to October.
Vyas Cave
This famous ancient Vyas cave is the place where Maharishi Vyas wrote Mahabarth epic with the help of Lord Ganesha. There is a small shrine of Ved Vyas maharishi which is 5000-years-old. The special attraction about this is that cave the roof resembles the pages from Vyas holy books. This cave is situated in Mana village, a few kilometers from the main shrine the Badrinath temple.
Bheem Pul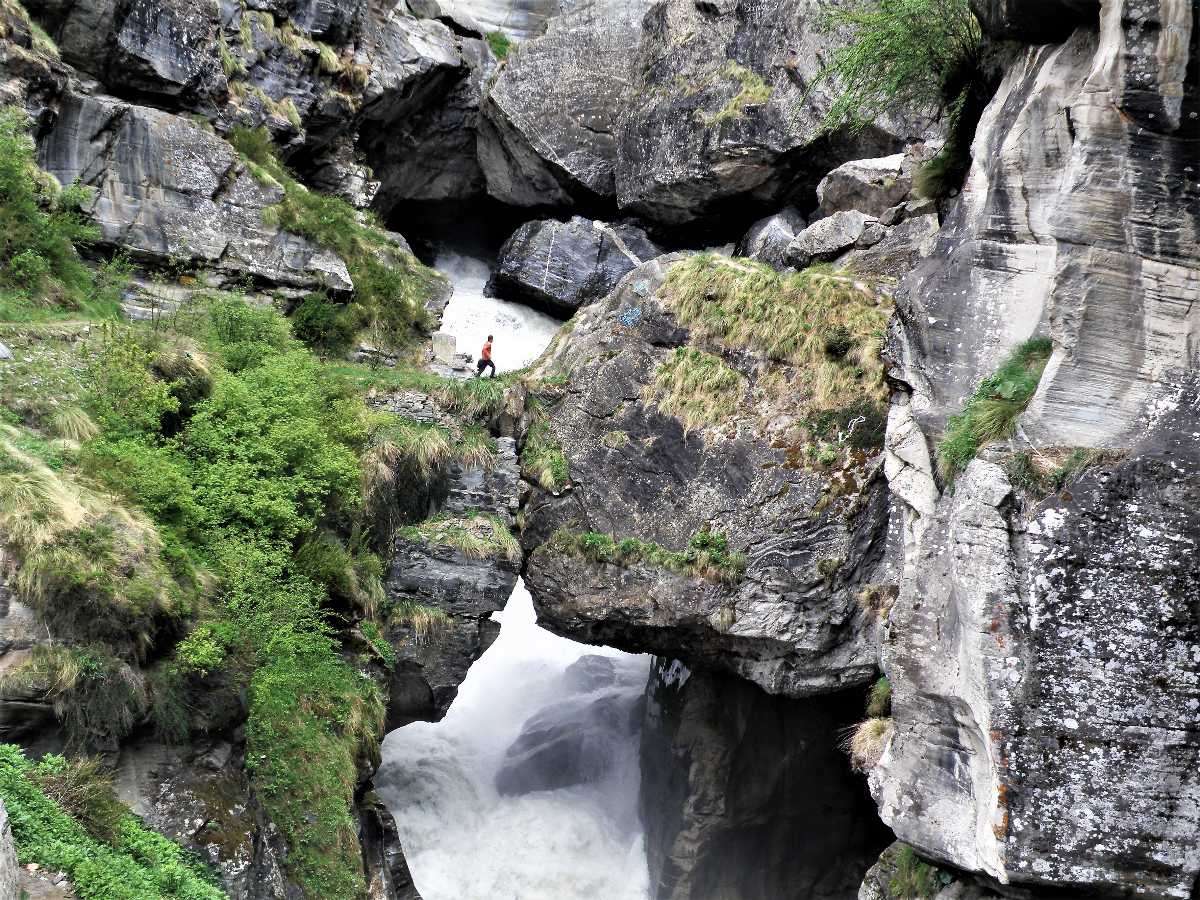 Bheem Pul is a bridge constructed by Bheema by placing a big rock on the river Saraswathi to cross the river by Druapadi during their journey to heaven. It is a huge rock placed on the river as a bridge to cross it.
Summary
The divine place Badrinath is the abode of the Lord Vishnu on earth. Everyone has to visit this holy place at least once in their lifetime to get the blessing from lord Badarinarayana.
"Hari Om Tat Sat"
https://www.holidify.com/places/badrinath/badrinath-temple-sightseeing-1264.html