Skiing destination in India: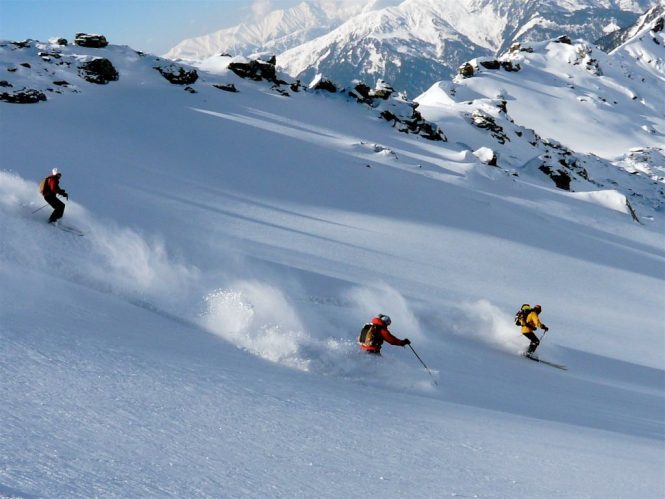 Auli in the Himalayan mountains is one of the best winter destinations in India. Auli is famous for winter sports Skiing, people come here especially during winter to take part in Ski. It is located in Chamoli district of Uttarakhand at an elevation of 2500 meters to 3,050 meters above sea level. Places to visit in Auli are Artificial Lake, Auli Ropeway, Trishul peak for skiing, Spiritual place-Vishnu Prayag and Joshimath, Scenic beauty Chattrakund lake and the second highest peak in India- Nanda Devi peak.
Easy way to reach Auli is to catch a flight to Jolly Grant airport in Dehradun, from there catch a bus or taxi to Joshimath. Joshimath to Auli travel can either be via ropeway or road by walking. Such a thrilling experience should be experienced once in a lifetime. Stay at Auli is not difficult as many cozy resorts are available. During Skiing season prior booking is advisable.
Artificial Lake:
Artificial lake in Auli is one of the biggest man-made lakes in the world which was built for perennial artificial ski slopes. Freshwater from the reservoir is used in snow guns which are set up on the skiing slopes to provide even surface throughout the season and during less snow. This place is also known as Switzerland of India as its base is surrounded by magnificent Nanda Devi mountains and valley with numerous endangered species of flowers. It is one of the most adventurous places to visit in Auli.
Auli Ropeway:
Ropeway which connects the hill station Joshimath to Auli is one of the highest and longest ropeways in India covering an area of 4 km and travels at the height of 3,010 m from sea level. During skiing season ropeway travelers can have a wonderful view of ski competition conducted by the government. Ropeway in Auli gives you the best thrilling experience and a spectacular view of the valley and meadows.
Trishul peak :
Trishul Peak loacted in Kumaaon region . Peak rise at the level of 23,940ft and it is the famous Himalayan peak where professional skiing is organized. The peak is surrounded by national park and at the base, Roopkund lake is located. It is one of the gorgeous Himalayan peaks. One of the places to visit in Auli not only for skiers but also for others who want to enjoy the natural beauty of the peak.
Chattrakund lake:
Next places to visit in Auli is Chattrakund lake which situated at an altitude of 3,300 m. Tourists need to hike 4km from Auli to reach the crystal clear water lake. This surreal lake is encompassed with Pine and deodar trees, with spine chilling breeze. One should spend some time here along with family and friends by enjoying the scenic beauty of this place.
Vishnu Prayag:
Auli is the base town to travel to the spiritual town Vishnu Prayag where two rivers Alaknanda and Dahuliganga merges to form into one river. Here one can visit the famous old Vishnu temple. One who visits this place can clearly see two rivers meeting at one point due to their distinctive colors.
Joshimath :
Joshimath is also called as Jyotirmath, which is a small town where Himalayan expedition begins through ropeway to Auli and the trekking to Badrinath starts here. It is home to Sankaracharya math and famous for Tapovan nature hot springs. one should reach this place to get to Auli. Apart from the spiritual destination, Joshimath has other fun and adventures activities as well.
Nanda Devi peak :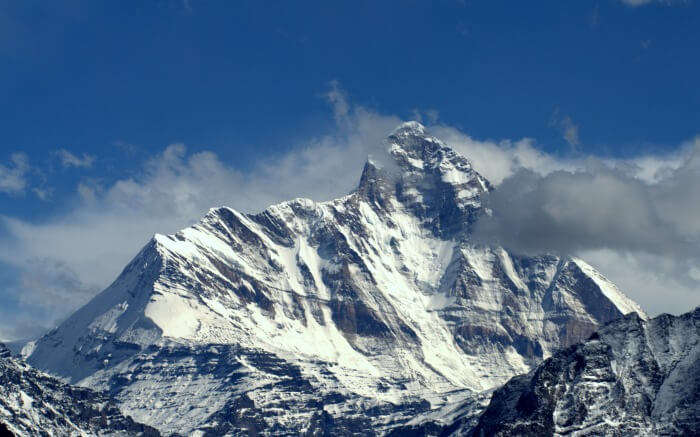 The second highest mountain peak in India Nanda Devi peak which is situated at an altitude of 7,817m. The peak is surrounded by the Nanda Devi national park where different varieties of flora, fauna, and biodiversity can be seen. These varieties and biodiversities made Nand Devi peak part of world UNESCO heritage.
Summing up:
Auli is the best winter destination for skiing in India, the above mentioned are the places to visit in Auli. Not only for skiers but also for others who want to surrender themselves in the bewildering beauty of Auli and its nearby places to visit and have a wonderful time.
Reference :
https://www.euttaranchal.com/tourism/auli.php
http://shravyatravelblog.com/wp-admin/post.php